At a Glance
1.1 // How to pick a topic for your show
Resources
Key Takeaways
Be clear on what your goals are for your show
Double down on your commitment
Pick a topic in the sweet spot and with a content tilt
1.2 // How to identify an audience
Resources
Key Takeaways
Your audience shouldn't be "everybody"
Identify your audience through people who share _______ in common with me or I want to speak to _______ who _______ statements
Confirm an audience exists by checking for similar podcasts, blogs, books, social groups or ads
1.3 // How much money do you need?
Resources
Buzzsprout // Podcast hosting
Audacity // Audio recording, editing software
Links to all microphones in lesson 2.5
Key Takeaways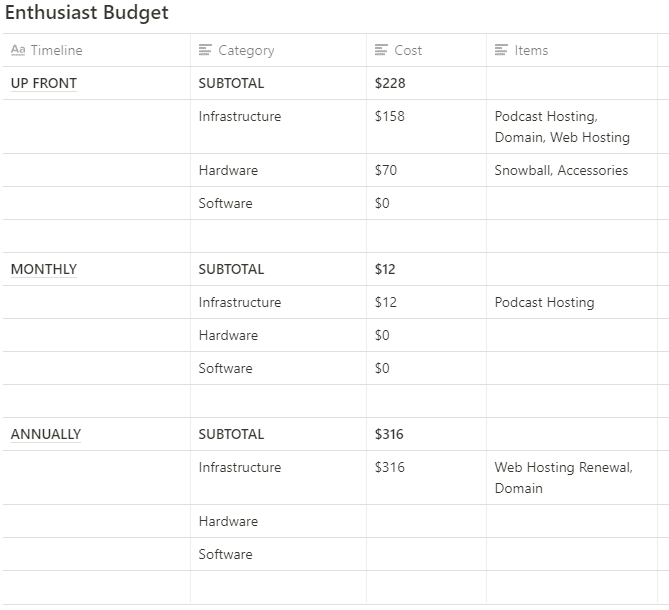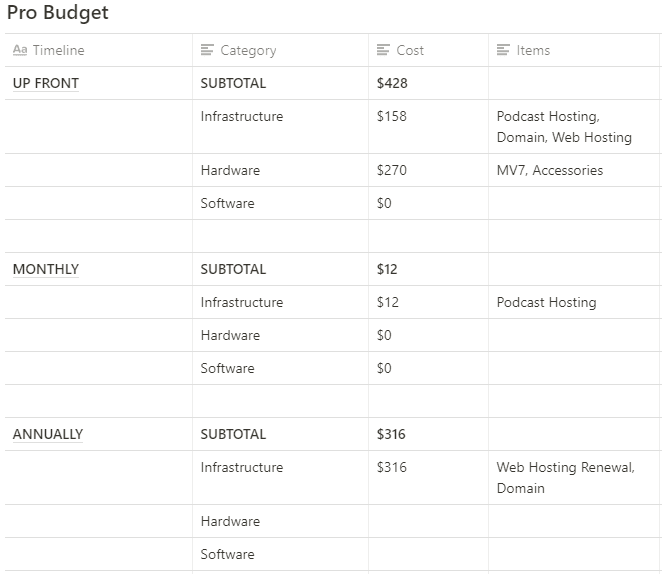 1.4 // Follow a content-first strategy
Key Takeaways
Create your content first
Don't let shiny-object tasks distract you
Complete outlines of at least 3-5 episodes before anything else. Only exception is reserving your name, Domain, and social handles.
2.5 // How to pick a microphone
Microphones
Other Gear
Key Takeaways
Quality audio is a key part in building a good show
The microphone you use, as well as your mic technique, impact that quality
At the beginning, use your phone or the Blue Snowball. After 5-10 episodes, upgrade to the MV7.
2.6 // What recording, editing software do you need?
Resources
Key Takeaways
Just one piece of software: Audacity
Free, available on Win and Mac
Tutorials available which simplify getting started
2.7 // How to get your podcast online (i.e., How to host your podcast)
Resources
Key Takeaways
Host your podcast on Buzzsprout
Use their tools to help you distribute your show to all of the podcast platforms
2.8 // How to structure your podcast
Questions to Ask
How many hosts will you have?
Will you have guests on the show? If so, how often?
Will your show have a script?
Will your show have regular segments?
How long will the show be?
How 'produced' do you want your show to be?
How frequently will you publish?
Key Takeaways
The structure of your show helps your audience know what to expect
Consider the answers to the questions I covered to help establish a consistent format from the outset
2.9 // Do you need a website?
Resources
Key Takeaways
You should have a website. Training your audience to come to a platform you own is key for long-term traffic and monetization.
Ideally, your own site
But, at first, you can just buy the Domain and point it at your Buzzsprout site
3.10 // How to record an episode
Key Mic Techniques
Use a mic stand
Maintain a consistent distance, only about four fingers away
Talking to yourself, and into a mic, feels unnatural at first — it gets better fast
Preflight Checklist Items
Confirm correct microphone
Confirm headphones work
Record and review a quick test
Put phone on DND
Check for ambient noise
Get water
Review outline
Key Takeaways
Perfect is the enemy of done. You have to actually record to get better.
Pay attention to ambient noise, and record in your close it if you have to
Establish a preflight checklist from the first episode you record. Update it as you go. And actually check off every item as you complete. Don't skip this step! You'll miss things.
Finally, tap/snap/clap whenever you run into a spot where you need to edit. It'll save hours.
3.11 // How to host guests on your show
Resources
Key Takeaways
Do your research! Know about your guest before they show up.
Prep your guest before you hit record
Have your guest sign a release
Use a tool like Riverside to record high-quality remote interviews
3.12 // Tips for quickly editing an episode
Resources
Audacity // Audio recording, editing software
Key Takeaways
Use tap/snap/clap as you record to flag spots that need editing
Listen at 1.5x – 2x speed
Make a templates file with all of the assets you need
3.13 // How to publish an episode
Resources
Key Takeaways
Set up a redirect using the episode's number help folks get to your show notes quickly
You can schedule your show notes to go live before your actual episode, giving folks who visit your site a sneak peek before everyone else!
Include a transcript in your show notes. It's great both for folks who want to skim the content, as well as for SEO.
4.14 // How to grow your audience
Resources
Key Takeaways
Be consistent. Period.
Consider one of the four strategies:

Optimizing for search
Appearing as a guest,
Hosting others on your show
Advertising
4.15 // How to monetize your show
Resources
Key Takeaways
Try these six strategies for earning revenue from your show:

Soliciting donations
Affiliate marketing
Site banner ads
Selling show merch
Sponsorship
Email marketing

Of those strategies, affiliate marketing and email marketing are my two go-to methods
5.16 // My process
Resources
Standard Process
Pick a topic
Write outline (Content first!)
Record episode
Edit, export episode
Upload episode to Buzzsprout

Set the episode show notes to a note like "For full show notes, visit mypodcast.com/ep#
Generate transcript
Schedule episode

Finish show notes

Expand show notes
Proofread / edit
Embed player
Bring over transcript
Schedule post

Set redirect

e.g., How to pick website colors
Standard + SEO Process
Pick a topic
+ Keyword research
+ Write headlines
Write outline
Record episode
Edit episode
Upload to Buzzsprout
Finish show notes
Set redirect
5.17 // Rapid-fire Tips
Tap, clap, snap the microphone to spike the waveform
Get music from Pixabay
Get stock photos from Unsplash
Record in a closet. Seriously.
Launch with 3-5 episodes
Short intro, outro. There's a reason Netflix added a Skip Intro feature. (Hint: Nobody likes them)
One Call-to-Action, ideally sending traffic for everything to your website
Use episode numbers and a site redirect to make it easy for folks to locate the right post
Hating the sound of your voice fades
Make sure your website has a search function
Site must be mobile friendly! Particularly for podcasts.
Keep a running list of ideas. Set up systems to capture anywhere!