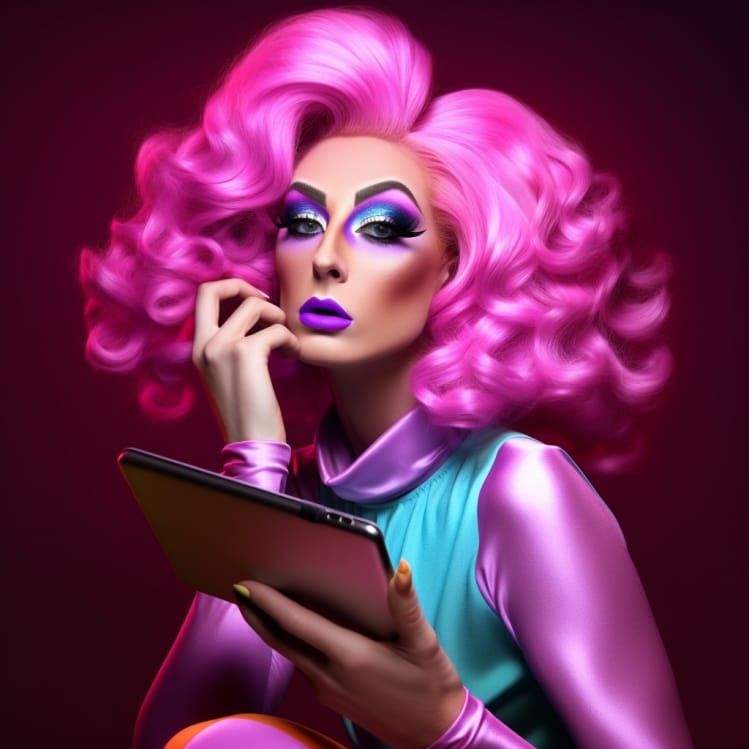 The Building Blocks of Creating Your Own
Drag

Website
Want to be the belle of the drag ball? A website is the perfect accessory!
With this FREE beginner's workshop, you'll learn how easy it is to create a stunning site that'll make heads turn!
Join the waitlist now! • Launches January 2024
There's
so

much you can do with your own site!
Plus so much more!
If you want to know as soon as the workshop is ready, join the waitlist now!
About Slay 101 in 60 Seconds!
Creating your own website can be so easy!
Here's what you'll learn:
Brand It, Queen! Gathering the Building Blocks for Your Website
Module 1
Create a mood board on Pinterest
Select a color palette inspired by your mood board
Choose font pairings for your brand
Design a simple logo
Stage Name, Domain Name! Securing Your Drag Persona's Online Address
Module 2
Learn what a domain name is
Use ChatGPT to brainstorm domain name ideas
Check domain and social media availability
Slay The Web! A Roadmap to Building Your Online Queendom
Module 3
Register key accounts and learn how to keep everything organized
Tour of WordPress essentials
Explore the elements of an effective drag website
Yep, it's really free!
If you want to know as soon as the workshop is ready, join the waitlist now!
That's me with my partner David at the Starbucks Reserve Roastery in Chicago!

When I was a kid, we had a desktop computer crammed next to the the furnace in a windowless basement room. I loved video games though, so I'd spend hours on that computer playing The Sims and Roller Coaster Tycoon.
Unfortunately, our aging computer had trouble playing most games, and my family couldn't afford better equipment. I was determined to play though, so I'd attempt to fix problems myself.
That determination would lead me to spend as many hours troubleshooting as I did actually playing games. I tried every solution I could find.
Eventually, after endless frustration and countless fixes, my persistence (ahem, stubbornness) would usually pay off, and I'd have a small breakthrough: My game would finally work!
It was in that basement office, struggling to get our outdated computer to cooperate, that I found my love for tech. Despite all the frustration, the excitement I felt every time I solved a tech problem is what lit the fire.
Now, decades later, I'm blending my passion for tech, my experience as a middle school English and math teacher and as a web design side-hustler, and my love for the queer community into my own online business: Courage & Grow.
If you're a progressive entrepreneur, and you want a website, you belong here 💖🏳️‍🌈🏳️‍⚧️
I can't wait to work with you! I'll guide you every step of the way!
Frequently Asked Questions
Why is this workshop free? What's the catch?
No catch! This workshop is legitimately free!
Once you complete the workshop, you'll have the option to enroll in additional workshops/courses, but there is no obligation to enroll in those. 
Also, one of my core values is to keep my services inclusive, so any future paid products will be affordable!
Are there any other costs I should know about?
When setting up your own website, you'll pay for the services you need. Your Domain will cost about $20 per year, and your Hosting will cost about $15 per month.
I'll guide you through registering for the exact services I recommend, so you'll get the best tools at an incredible price!
When will the workshop launch?
I expect to launch the workshop sometime around January 2024! 
How does I use this workshop?
Once you enroll, you'll gain access to all of the modules! Watch and follow along with the step-by-step tutorial videos. I'll walk you through everything you need to get started.
Do I need tech skills?
Nope! If you can use the internet, you can take this workshop. 
How long does the workshop take?
The modules will take 2-3 hours to complete. So, you can have your website online in a single afternoon!
What if I have need help when I'm taking the workshop?
There's a support section on every module where you're welcome to ask questions and get help from me!
What if I have a question that's not listed here?
Ready to enroll?
If you want to know as soon as the workshop is ready, join the waitlist now!
Enter your details below and I'll let you know as soon as Slay The Web 101 is ready! I expect that to be sometime around January 2024!