At a glance
Quick summary
Free plugins: We'll cover seven free WordPress eCommerce plugins
Paid plugin: We'll cover one paid WordPress eCommerce plugin
Are the free plugins really free?
All of the plugins listed below are free to use, at least for their base functionality
If I've listed the plugin in the free section, then I have not paid anything for it (i.e., I do not subscribe to the pro version)!
Free WordPress eCommerce plugins I use
1. WooCommerce
The core of all of my eCommerce setup is WooCommerce
There are alternatives to Woo, but it's the standard for adding eCommerce to a WordPress site
All of the rest of the plugins in this list rely on WooCommerce
2. WooCommerce Payments
WooCommerce built Payments via a partnership with Stripe
So far, it's the simplest way I've found to add a payments mechanism to your WooCommerce
Even though you pay standard credit card processing fees to use Payments, that's the same with any payment processor.
The functionality of this plugin is free!
3. Preview E-mails for WooCommerce
This small plugin allows me to preview emails that WooCommerce sends
Everything is housed in a simple dashboard
This way, I don't have to trigger a bunch of sample purchases to review the emails that Woo sends
4. Thanks Redirect for WooCommerce
Excellent, simple plugin that allows me to redirect users to a Thanks page automatically after they've completed a purchase
You can specify the URL globally and/or on an individual basis
5. URL Coupons for WooCommerce
This allows me to create links that automatically apply coupon codes
For example, I could create a SUMMER50 coupon, and then share the link https://sitecare.courageandgrow.com/?apply_coupon=SUMMER50
This is especially handy when I'm sending out discounts via email. Users only need to click the link to get the discount (instead of having to enter the coupon code manually)
6. WPC Composite Products for WooCommerce
SiteCare is a composite product. This means that there's a base product and then add-ons that customers can include or not.
This plugin allows me to set WooCommerce up in exactly this way: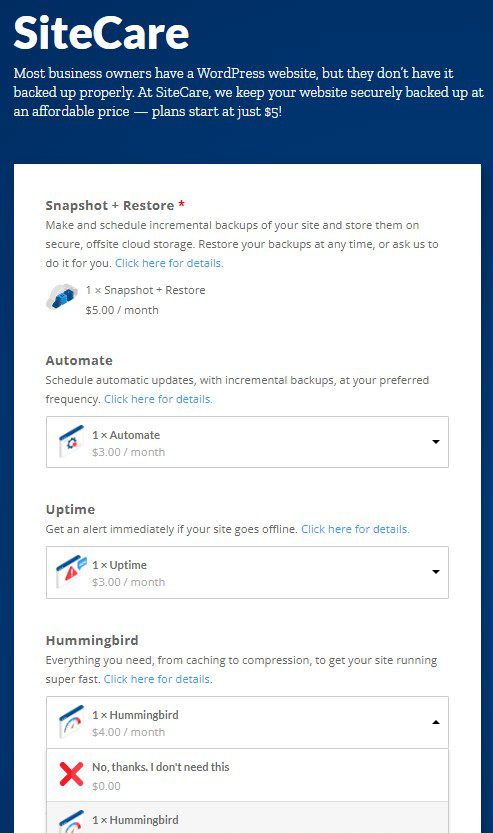 As you can see, Snapshot + Restore is the base product. Then, customers can choose which of the rest of the service they want to purchase.
PREMIUM TOOL // SiteCare
At SiteCare, we keep your website securely backed up at an affordable price — plans start at just $5!

Click here to go to SiteCare
7. MailerLite – WooCommerce integration
My email marketing tool of choice is MailerLite
I have the Woo integration installed to link products to my email
This allows me to set up automated emails and track metrics that happen via email
Paid WordPress eCommerce plugins I use
8. WooCommerce Subscriptions
WooCommerce Subscriptions is currently the only paid tool that I use
Subscriptions is what I use to charge customers for their SiteCare subscription
It allows for automatic renewals and free trials
It is rather expensive, though. As of writing, it's $199 annually.
Free alternative: Subscriptions for WooCommerce
I have not yet tried this plugin
However! If I were to experiment with a free alternative to WooCommerce Subscriptions, this is where I'd start
Others? Questions?
Any thoughts or questions? Anything with which you disagree? Anything I missed?