As of February 2021, the best Web Hosting for Entrepreneurs I can recommend is SiteGround
Of all the Hosts I've tried, SiteGround is the most reliable, the fastest, and the simplest to use
These factors mean you'll be able to focus more on growing your revenue and less on annoying technical crap
After reading these four points, you have enough information to get started. Feel free to jump right over to SiteGround. No FOMO, I promise! (But, if you want more info, there is lots of good stuff here!)
In one sentence, what is Web Hosting?
A website is just a big bunch of files, those files have to live somewhere online that people can get to them, and Web Hosting is a service that gives you that place.
Okay, enough technical junk. Let's focus the best Web Hosting for Entrepreneurs.
Of the six Web Hosts I've used, SiteGround is the best — by far!
There are dozens of Web Hosts out there.
Personally, I've had my / my client's websites, on six of them:
WordPress.com
GoDaddy
Network Solutions
A2 Hosting
BlueHost
SiteGround
For a bunch of reasons — reasons we'll cover below — SiteGround is my pick for best Web Hosting for Entrepreneurs.
You know which Host to pick when you realize the
one

main purpose of an Entrepreneur's website:

Money.

When you strip everything away, the root, and most important, purpose for an Entrepreneur to have a website is to generate revenue.

With that in mind,
3 key factors in selecting the best Web Hosting for Entrepreneurs
Based on that one purpose (increased revenue), here are the factors I considered when picking the best Web Hosting for Entrepreneurs:
1. Speed
How long do you wait for a website to load?
Not very long, right?
On average, folks abandon a page if it takes more than three seconds to load. (Source: hostingmanual.net)
Plus, Google penalizes slow pages by demoting them in search results.
Bottom line: Slower pages = less traffic = less money.
2. Reliability
If your site is constantly down, people will avoid it.
Bottom line: Unreliable website = less traffic = less money.
3. Price
This factor is more about you than about your users.
Typically, the more you spend, the better the Speed and Reliability.
Bottom line: You get what you pay for. And, your users get what you pay for.
Bonus: Features
Okay, here's one additional factor I consider: the features the Host offers.
Bargain-basement Hosts skimp on lots of stuff to offer bargain-basement pricing.
Examples include: Automatic backups (see my post on that), staging environments for testing new features, and simple-to-install security certificates.
Bottom line: Again, you get what you pay for. And again, your users get what you pay for.
Why SiteGround is the best Web Hosting for Entrepreneurs
Let's get to it. Here's a list of the reasons why I think SiteGround is the best Web Hosting for Entrepreneurs.
Each factor below is rated out of five ⭐
Reliability ⭐⭐⭐⭐⭐
So far, my sites have enjoyed 100% uptime.
I guarantee that won't always be the case. Even the biggest sites go down occasionally (e.g., Facebook, Gmail, etc.)
But, I've been ecstatic with how solid SiteGround's reliability has been. And, it's been the best of any host I've used, by far.
Speed ⭐⭐⭐⭐
Most small businesses and independently-built sites use shared hosting. This is where a number of websites live on the same hardware, and it means that others can have a (modest) impact on your site's performance.
Ultimately, I knock off a star for all shared hosting because of normal, minor performance issues. But, SiteGround still does the best of any host I've tried! 4/5 stars is excellent!
Startup price ⭐⭐⭐⭐
For everything that SiteGround comes with (keep reading), the startup price is great.
Renewing your package will cost you more though, and that falls under my to be improved section below.
Automatic backups ⭐⭐⭐⭐⭐
I can't say enough about how effective SiteGround's backup tool is.
You don't know it's there. That's how good it is.
It silently backs up your site every day, providing an extra level of protection should a catastrophe happen.
Plus, restoring this backups is stupid easy. Like, it almost shouldn't be so easy?
If you're curious about SiteGround's auto-backup tool, and about automatic backups in general, I've got another post about it!
Domain emails ⭐⭐⭐⭐⭐
SiteGround's email tools are on par with every other hosting provider I've used.
You can set up multiple @yourdomain.com email addresses, and can manage them relatively simply.
Simple site tools ⭐⭐⭐⭐⭐
On the back-end, most hosts provide a control panel, more commonly referred to as a cPanel. SiteGround ditches this for their simplified Site Tools.
I'll admit, when I first tried it, I was a bit off-put. I didn't think I'd have access to everything I'd need.
But, the layout makes sense, the tools are organized in the right way, and I've grown to love it. Now, whenever I log into a client's site with a cPanel, I find myself setting a reminder to encourage them to switch to SiteGround.
I think that SiteGround really hits a home-run with this, particularly for more mainstream (read: less techy) Entrepreneurs. They label things in plain English, and make them easy to get to.
Ultimately, I think you'll love the Site Tools feature, especially if you've ever used a cPanel elsewhere.
Easily create staging sites ⭐⭐⭐⭐⭐❤️
This is the feature most Entrepreneurs never knew we needed. And, it earns a bonus ❤️ for being so well-executed.
A staging site is a copy of your live site on which you can test changes. Then, once you're happy with the changes, you can deploy them to the live site.
Also, it's worth noting that that copy of your site is live on the internet, so you can send folks to it for testing!
That whole process can often be pretty complex, and usually requires someone with tech chops to assist.
But, SiteGround makes it so fucking simple that I encourage clients to use it all the time.
Want to test a new theme? Create a staging site.
Want to try out new ads? Create a staging site.
Want to build out a new section of your site, and allow real people to get to it for testing? Create a staging site.
I could go on and on.
Oh, and deploying those changes legit takes a couple clicks.
Amazing.
Effortless WordPress migration ⭐⭐⭐⭐⭐
So far, I've only used this tool once, but it worked flawlessly.
I moved my old podcast site (https://easiercast.com) from BlueHost to SiteGround, and I was shocked at how easy it was. Especially since I've done manual migrations in the past that were a nightmare.
Incidentally, I have a client that I'm migrating to SiteGround during February/March of 2021 (not that it takes that long — I just don't know exactly when), and her site is massive. So, it's really going to put this feature to the test.
I'll come back here and update this after it's done and let you know how it goes!
Host multiple websites at no extra charge ⭐⭐⭐⭐⭐
On my one hosting package, I currently have five sites — three live sites, and two test sites. And, I've got one domain hanging in the background for an upcoming project.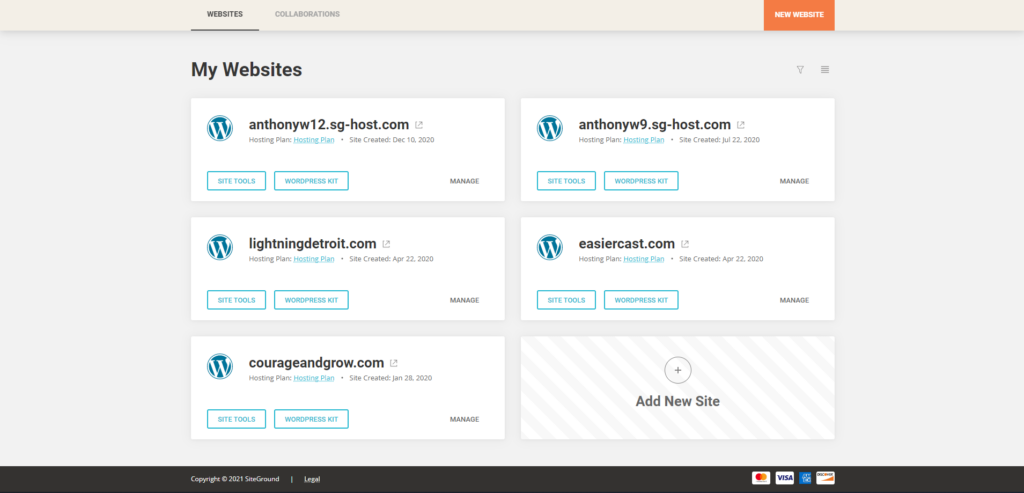 If you've also got multiple projects or ideas, or like the idea of being able to create whole test sites, and not having to pay any extra, then SiteGround is for you!
A couple areas for improvement
Even though all of the above factors make SiteGround my pick for best Web Hosting for Entrepreneurs, there are still a few drawbacks.
My level of frustration with each of these factors is out of five ? emojis.
Renewal price ????????
SiteGround is on the cable-company model (looking at you Comcast/Xfinity): Get them in at a low price, then jack up the price when it's time to renew.
I didn't love discovering this.
But, I recommend SIteGround anyway.
I'm going to fully disclose my pricing below, but go through this whole section to see why I feel the price is justified.
I subscribed to hosting for two years at first, and that cost me $142.80.
⚠ Note: I subscribe to their GrowBig plan — there is a lower tier plan that's less expensive
But, to renew for two years beyond that, the price is $479.76 ?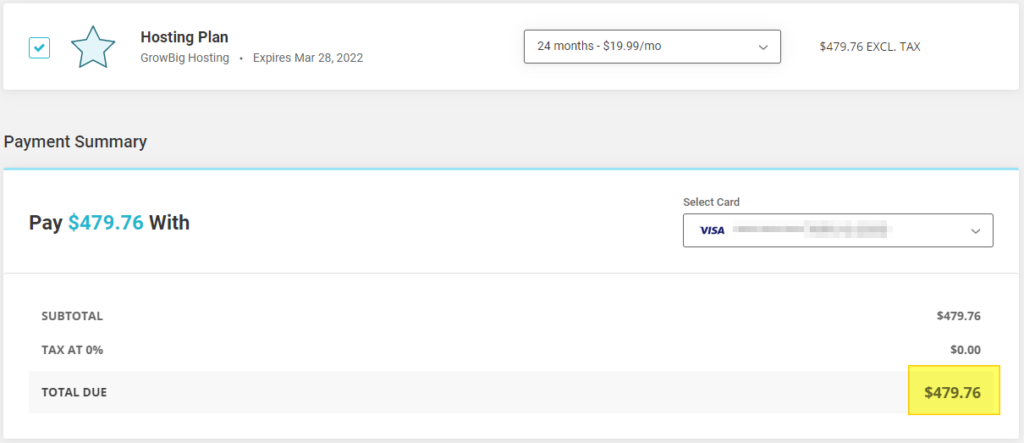 And, if I renew for only 12 months, it's $299.88.
When I discovered this, I was pretty unhappy. To me, 2.5x the price is a huge increase.
I did contact SiteGround to see if there was a discount available when I go to renew. And I believe there was a small one they could offer. But, on the whole, that's the price I can expect to pay.
After the initial shock wore off though, and I've had time to process this, here's what I've come to understand:
Of any host, SiteGround has provided me the most seamless, effortless experience
I've enjoyed their features (the ones I described above) a lot
The reliability is insanely good
The speed is great
I expect this business to generate enough revenue to support that cost (at minimum!)
Given those things, I relaxed about the price. I reminded myself, again: you get what you pay for. And, to me, this was worth paying extra for.
Ultimately, my advice to you is to sign up for hosting at the longest you can (36 months is the longest offered) to lock in the lower rate. Then, by the time you face the increase, your business will support it!
Getting to support ????????????
I actually find this point to be slightly more annoying than the renewal price issue.
First of all though, the actual support itself was good! I've only used it twice, but when I did, I was happy with it.
The issue I have is getting to the support on their site.
They (deliberately, I believe) put up a number of clicks and forms between you and a real person. This is frustrating.
GoDaddy, BlueHost, and A2 Hosting all make getting in touch with a live agent effortless. SiteGround annoyed me a bit.
But, the tradeoff here is: I've needed SIteGround's support significantly less.
So, this feels like an ounce-of-prevention / pound-of-cure kind of situation? Sign up for the better host, need support way less, and this frustration is a wash ¯\_(ツ)_/¯
Give SiteGround a shot
I've spent years trying various platforms before settling on SiteGround as the best Web Hosting for Entrepreneurs.
This doesn't mean that it'll be my host for forever! Things change over time, and competition might overtake SiteGround.
But, as of right now, I absolutely love this platform, and I think you will too.
Try SiteGround and see why I selected it as my choice for best Web Hosting for Entrepreneurs