At a glance
Quick summary
Step-by-step exercise: I'll walk you through using identifying Brand Adjectives using a step-by-step exercise
Helpful tip: As well as covering mind maps in general, I show a helpful tip that'll free up your mind if you get stuck
Video: I also include a video that covers the exercise!
Have you completed my Business Core Values exercise?
If you haven't identified your Business Core Values already, hold up! You'll need those values for this exercise.
Head back to my post — A step-by-step way to identify your top 5 Business Core Values — and complete that exercise first. Then head back here!
Exercise: How to identify your Brand Adjectives
Once you've identified your Business Core Values, it's time to make those values a bit more concrete.
Using this mind-mapping technique, you'll learn how to connect your Values to your copy, your email marketing, your web design, etc., by identifying your Brand Adjectives.
Watch the video for the full method! A summary of the steps is outlined below.
Step 1. Complete the Business Core Values Exercise
First, be sure you complete the exercise from An Easy Way to Identify Your Top 5 Business Core Values. This is the jumping-off point for your Brand Adjectives work.
Click here to jump to that article.
So that they're authentic, you want to be sure that all of your Brand Adjectives stem from your Core Values.
Don't skip this step! It only takes about 30 minutes to complete.
Step 2. Put your Core Values on a Mind Map
Get something to write with and something to write on (I used my tablet).
In the center of the page, write Core Values or Brand Adjectives, and draw a circle around it.
Branching off this center circle, write in your Core Values.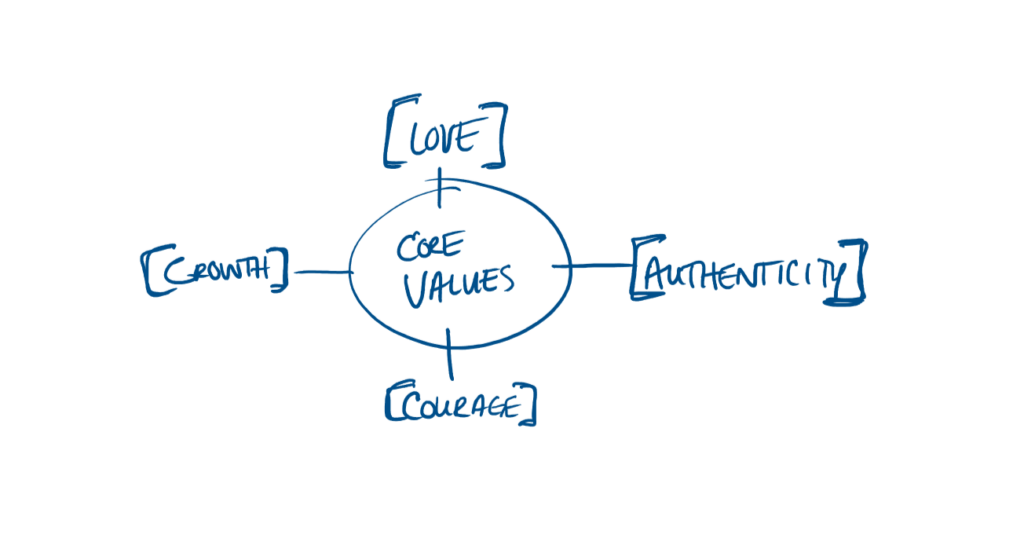 As you can see, be sure to include any nested Values too (e.g., I have Courage > Flair).
Step 3. Expand the Map
From here, start filling in words or phrases that link to what you've got currently. These things could be:
Synonyms
Related words, phrases, or thoughts
Unrelated words, phrases, or thoughts (more on this below)
Random Thoughts
Sometimes I have a thought that doesn't seem to fit anywhere on the map.
I used to stress about this, and would spend time trying to force it to fit.
DON'T DO THIS.
Don't let the tool or the structure get in the way of your train of thought.
Simply add a Random Thoughts section, and drop it there. I always abbreviate it as RT.
Step 4. Highlight Brand Adjectives
Ultimately, you'll want to be able to fill in the blank in this phrase: My brand is [blank].
And you want as many as you need (and no more).
So, go through your Map and look for words or phrases that complete that statement.
Highlight them, star them, circle them, glitter them. Do whatever you have to do so that they stand out.
Step 5 Make a Final List of Brand Adjectives
In a blank space on this page, or on a new page, make a Brand Adjectives list.
[wpdiscuz-feedback id="olkzmstx1y" question="Once you've got your Adjectives, I'd love to know what they are!" opened="0″]Start with the <strong>MY BRAND IS…</strong> header, and then make a list underneath.[/wpdiscuz-feedback]
Courage & Grow's Brand Adjectives
MY BRAND IS…
Witty
Joyful
Enthusiastic
Real
Colorful, modern, tasteful
Sassy
Helpful
What're you Brand Adjectives?
I'd love to know what Brand Adjectives you identify for your business.