At a glance
Quick summary
Want to improve your headline writing in just two minutes?
I've condensed the best headline resources from around the web into a single, short post!
You'll find two infographics and a phenomenal free tool that I use every time I write a headline
My favorite headline types
List: Lists, also called 'listicles', are articles made up of a list of ideas, tips, or instructions, and typically include a number.
Question: Question headlines pose a question to the reader. Make sure you answer the question posed!
How to: Headlines that include the phrase "how to", and then explain how to do something.
Best: These headlines include the word "best", and these articles rank things.
For more, check out CoSchedule's article 17 Types of Headlines Every Writer Needs to Know
Anatomy of a fantastic headline
High-quality headlines should aim to hit these benchmarks:
Write multiple headlines
Headline writing is a skill that takes time to develop
Most sources recommend that you write at least 25 variations of a single headline! (Nope, that's not an exaggeration.)
Want a simple tool to help you with this? You should…
…Use the CoSchedule Headline Studio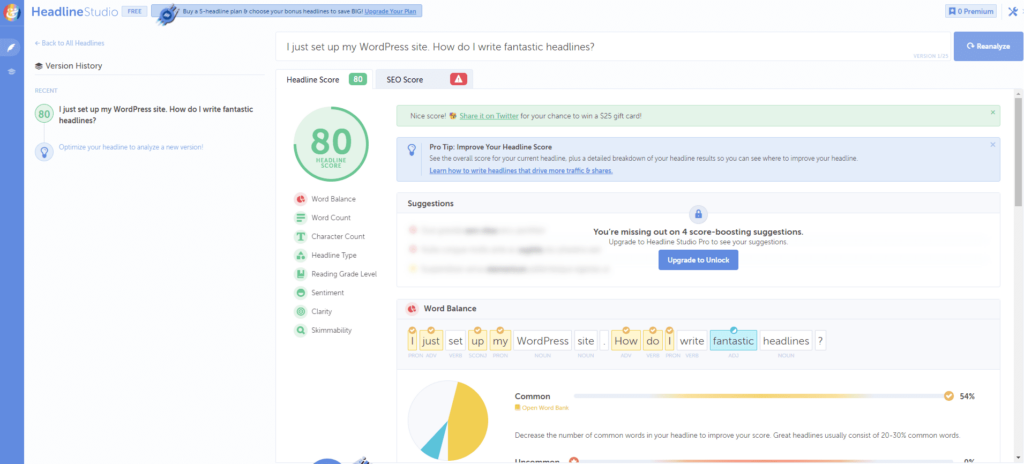 Every single time I write a headline, I work on it using Headline Studio from CoSchedule
You enter a headline into the tool, and it spits back a score and recommendations for improving
There is a paid version. However, I still use the free version!
FREE TOOL // Headline Studio by CoSchedule
Write better headlines that drive maximum traffic in Headline Studio. Start for free and access tons of headline recommendations and resources in one tool.

Click here to go to Headline Studio
Grab CoSchedule's Blog Title Infographic
This is a great visual that includes 500 attention-grabbing words, 100 headline templates, and more, so you can boost your traffic by 438%.
Others? Questions?
Any thoughts or questions? Anything with which you disagree? Anything I missed?