At a glance
Quick summary
Four essential elements: If you want to create a business website, there are four things you need!
2022 recommendations: We'll cover the exact services I recommend you sign up for (the ones I've signed up for myself!)
Three bonus exercises: I've also included three exercises I recommend completing that'll help lay the proper foundation for your new website's design and copy
1 • Platform
TL;DR
Choose WordPress. Use your Hosting provider's tools to install it. (More on this below.)
Platform • What you build your site on
If you've ever wanted to create a business website, you'll know that there are a ton of options out there.
Too many options.
You may have come across site builders like Wix, Squarespace, or Shopify. Or, if you're creating education content, maybe Teachable, Thinkific, or Udemy.
Those tools all have their own strengths, for sure.
However, they have a number of significant drawbacks. Chief among them: You're limited to the features and rules they put in place.
In other words, they suck if you're in this for the long-haul.
It's not worth building something, growing out of it in 6 months or a year, and then having to migrate everything.
The better path is to start with the right Platform up front!
WordPress is where it's at
Don't panic! Even if you're brand new, WordPress doesn't have to be scary.
Folks who avoid WordPress often think at least one of these things:
It's hard to learn
It's complicated
It's time-consuming
I will admit: Those concerns can be valid.
However!
The slightly steeper learning curve is completely worth it, especially when you have the rest of the shortcuts found in this post.
Why is it worth learning WordPress?
When you create a business website on other platforms, you're subject to their terms of service and fees. Those platforms can change their terms or fees at any time and cause huge problems for your business.
With WordPress, you are the owner, 100%, of the content. And, nobody's terms but yours govern that content.
You own everything from the start. Period.
Plus, even though other platforms are 'simpler' out of the box, there's still a learning curve nonetheless. And, 'simpler' can cost you later when it comes to expanding.
WordPress itself is free!
The core WordPress files are totally free.
You can download them at any time by clicking here.
But, if you follow the steps in this guide, don't worry about downloading them. If you select my recommended Hosting provider (Cloudways), you'll be able to install it with just a couple clicks.
Note
Most quality Hosting providers will have tools to hep you install WordPress. It's rare that you'll need to download the files manually.
2 • Domain
Domain • The link folks type into their browser to get to your site
Your site's Domain (or Domain Name) is the link that folks type into their browser to get to your website.
Examples include google.com, craigslist.com, courageandgrow.com, etc.
I have a few quick tips to help you make selecting your Domain simpler:
Four guidelines for picking a Domain
1 • Shorter is better
Folks don't want to spend time typing out a long Domain, especially on Mobile.

Ideally, your Domain will be less than 15 characters (not counting the https://, www., or .com parts.)
2 • The .com extension is still best
Even though lots of extensions are gaining popularity — .info, .us, and .tech to name a few — .com is still the best choice. Personally, I go out of my way to find a .com version that works!
3 • No special characters or emoji
Nobody wants to type www.face-book.com (especially on mobile). And, when saying the link out loud, nobody wants to say 'face dash book dot com'.
Spend some extra time finding a version of your Domain without any special characters at all.
4 • Consider social media
Ideally, your Domain will be the same as all of your social media handles.
For example:
Domain: https://courageandgrow.com
Facebook: https://facebook.com/courageandgrow
Instagram: https://instagram.com/courageandgrow
Twitter: https://twitter.com/courageandgrow
How to check Domain and Social Media Username availability with one quick search
I have a quick post on this: How to check Domain Name and Social Media Username availability with one quick search
Check it out:
Where to go to buy your Domain
When you first create a business website, I recommend purchasing your Domain via Google Domains.
Avoid purchasing your Domain anywhere else! By keeping your Domain with an independent provider, it's much easier to pick up a move to a new Host if you ever find that necessary.
As you'll see in the next section, in my time building websites, I've switched Hosts five times. The last time, I finally learned to centralize my Domain provider so I just need to make a quick tweak to switch my sites if/whenever I need to move again.
Caution
To reiterate: I strongly recommend not purchasing your Domain through your Hosting provider. It is certainly the most convenient to set up initially, but it's a pain in the butt if you want to move to another Host later.
What if you don't know what your business name should be?
If you haven't decided on a name for your business yet, it'll be tricky to select your Domain (or create a business website overall).
I recommend jumping down to the bonus exercises below and completing the first two.
These will help you hone in on the core values and descriptors for your business, thereby making it easier to lock in your name.
3 • Hosting
Hosting • An online place to put your website's files
A website is just a big bunch of files. Those files have to live somewhere they can be accessed by the public.
You could set up your own servers to make those files public. But, most folks don't.
Instead, you sign up for Hosting: a service which provides that place to put your website's files.
Hosting is at the root of page speed and reliability
Your Host is the foundation when you create a business website. And, it controls two absolutely critical elements: speed and reliability.
Both of these factors are critical because they determine whether folks make it to your site, and whether they stay on your site.
More traffic = more money.
Longer stays = more money.
Page speed matters
How long do you wait for a website to load? Not very long, right?
On average, folks abandon a page if it takes more than three seconds to load (Source: hostingmanual.net)
Three seconds.
If you get the Hosting wrong, and your page speed is bad, and your site goes down all the time, you can bet that folks aren't sticking around.
For Hosting, my 2022 recommendation is Cloudways
I've had sites on GoDaddy, A2 Hosting, Bluehost, SiteGround, and now Cloudways.
Cloudways is my current choice because they offer the best features at the most flexible price.
A big pet peeve I have is the bait-and-switch model that most Hosts use: Charge a ridiculously low price at first, force customers to pay a lump sum, then jack the prices way up when it's time to renew.
Cloudways charges you monthly, rather than annually, and allows you to scale up or down the resources as you need them!
Click here to check out Cloudways.
Why I left SiteGround even though I loved the service
I loved SiteGround, but their renewal prices are ridiculous.
For example, if you choose their GrowBig plan, they start you at $4.99 a month for 12 months. Then, after the first year, the price increases to $25/month!
You go from a $60 bill to a $300 bill.
No thanks.
Cloudways offers similar specs and features and starts at just $12 a month. And, you get to pay monthly, so no lump sum up front.
Click here to check out Cloudways.
4 • Theme
Theme • How you control what your site will look
Once you've got all the other pieces we've discussed in place, it's time to decide on a Theme.
I don't want to exaggerate, but the Theme is literally the biggest decision you can make when you create a business website.
The Theme governs your design, affects performance and reliability, provides you tools on which to build, and much, much more.
The selection of a quality Theme is essential.
Premium: Divi
Divi, by Elegant Themes, is a multi-purpose Theme with a visual builder at its core.
Some Themes are designed for specific use-cases (e.g., photography sites, magazine sites, etc.), but Divi is not one of them.
Rather, Divi is an all-in-one platform that gives you total flexibility to build nearly any type of site.
There are a ton of features I could discuss with you here, but I narrowed my list down to the ones I think are most important to beginning Entrepreneurs:
1 • For anyone, of any skill level
Divi doesn't require any special knowledge or skills to get started. Between Elegant Themes' tutorials, and help from folks like me who teach about the tool, anyone can learn to use Divi fast!
2 • Visual builder
The visual builder, or Divi Builder, is at the heart of Divi's features. This is an incredibly powerful, drag-and-drop tool for designing ages. Plus, you can build on the front-end of your site, instead of saving and reloading dozens of times with a back-end editor.
3 • Modules for everything
Contact forms, email opt-ins, buttons, countdown timers, blurbs, testimonials, and on and on. Divi has a module for just about everything you'll need.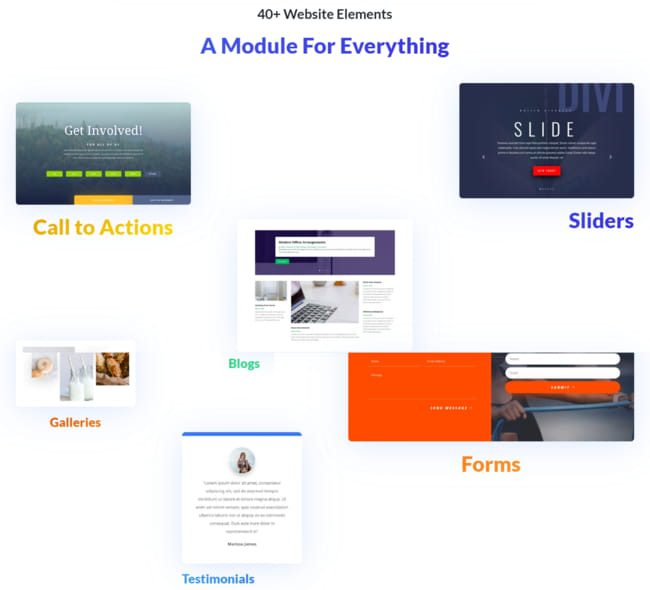 4 • Amazing templates
This is one of the most important aspects of Divi. It comes with hundreds of website packs for you to use. Getting a page up quickly is effortless: Simply import a template, drop in your content, and you're done!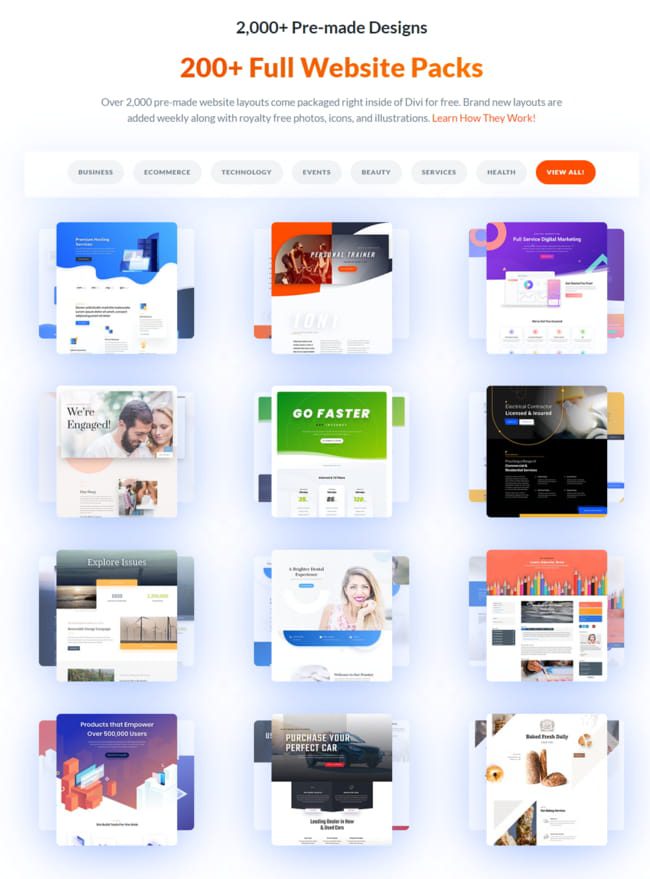 5 • It's mobile-friendly
Having a mobile-friendly site is critical. Divi has built in tools to ensure that your site looks great across Desktop, Tablet, and Mobile.
6 • Built-in eCommerce integration
If you're planning to sell products, WooCommerce (a free WordPress plugin, and the most popular tool for eCommerce) is fully integrated with Divi, so you can get your shop up and running quickly.
7 • Amazing Blog styling
Divi's Theme Builder allows you to design your Blog layout once, and then have it apply to every post on your site. Then, need to add a new promotion or tweak the layout? Change it in one spot and it'll apply globally as well!
Pro Tip
The Theme Builder is, by far, my favorite Divi tool! Being able to design your Blog layout once, and then have it automatically applied across the whole site is an incredible thing.
Divi Pricing
At the time of writing, Divi's base pricing is as follows:
Annually: $89 / year
Lifetime: $249 / one time
When I started out years ago, I purchased an annual subscription. Then, around renewal time, I upgraded to the Lifetime license and Elegant Themes (the company behind Divi) allowed me apply what I'd already paid toward the upgrade!
Check out Divi!
Free: Blocksy
If you want an ultra-quick, free way to create a business website, check out the free Blocksy theme!
If I needed a website online quickly, and I wasn't paying for Divi, I'd be using Blocksy!
Bonus • 3 exercises I recommend completing before you create a business website
Once you've set up your four web design basics, I recommend pausing before you go any further!
Take some time to complete these exercises and it'll set the proper foundation for your entire site!
Exercise 1 • Identify your Business Core Values
Exercise 2 • Hone your Brand Adjectives
Exercise 3 • Gather inspiration for your design
Others? Questions?
Any thoughts or questions on how to create a business website? Anything with which you disagree? Anything I missed?